College web site re-developed entirely in SharePoint
19 June 2009
Esher College has become the first College in the UK to develop their public facing web site entirely in SharePoint. Major benefits include:
powerful integrated content management tools, with versioning and workflow management
delegation of responsibility for sections of the site direct to the content owners
real-time display of college data such as course availability and exam results, using Excel Services and the Business Data Catalog
integrated search and indexing of content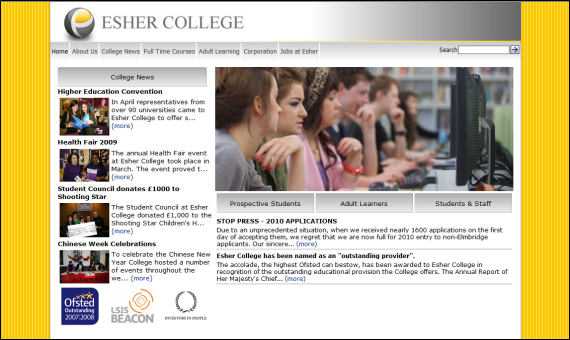 When accessed from within the college, the site is integrated with existing staff and student SharePoint collaboration environments; there content can be collaborated on by staff before being submitted for approval and finally publication. In contrast, when accessed via the internet the site is securely limited to a read-only version.

David Lloyd, ICT Development Director commented:
"Using SharePoint for our web site makes the management of the web site much easier and also saves time by allowing me to delegate the responsibility for creating new and up to date content."

The Business Data Catalog was used to display adult course details from a SQL Server database which is already in use elsewhere in the college. This ensures that the content is always up to date and only maintained in one place.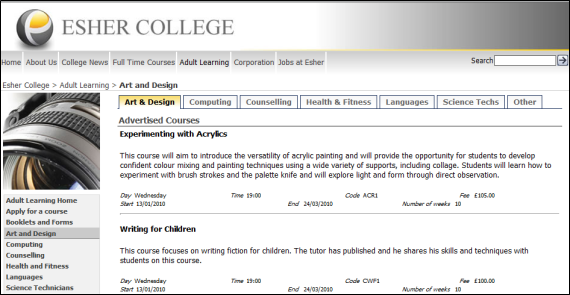 Excel Services was used to display a summary of exam results across the college which is managed in a spreadsheet.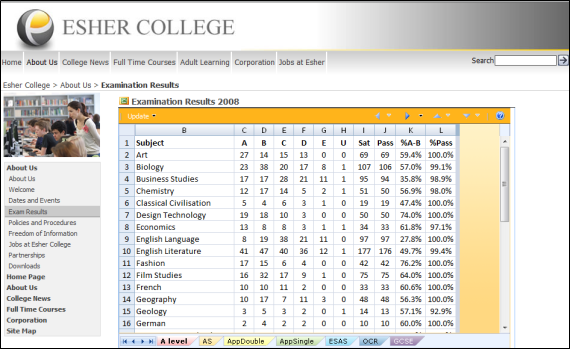 Parabola provided the technical expertise behind the project, supporting the Esher designer with the server deployment and guidance on best use of SharePoint features. Esher provided all the content and all of the web design.