Yeovil College completes successful implementation of SharePoint 2010 with Parabola Software
15 April 2011
In July 2010, Parabola Software won a tender to deliver a document management portal for Yeovil College. The objective was to implement a single sign-on intranet system that gave staff easy access to the information they needed to do their jobs. This included file sharing, search, online collaboration, automated workflow and improved communication among workgroups.
Parabola successfully implemented a SharePoint 2010 solution in eight months. This has now replaced the college's old intranet and provides a fast, searchable and highly effective document management system, with further potential for business process automation.
Tackling the brief
Serving communities in South Somerset and North and West Dorset, Yeovil College provides learning opportunities for over 8,000 people and has a turnover of around 16 million pounds. The challenge for Parabola was to create an infrastructure that would deliver the key benefits of SharePoint and allow college staff to work together more effectively.

Richard Gray, Managing Director at Parabola Software said; "We implemented the new portal using Microsoft SharePoint 2010, a powerful and versatile platform that's readily customised to meet changing needs. That said, SharePoint is complex and requires careful planning and project management. For this reason it was vital that we began with an in-depth envisioning process that defined the scope of the project and prioritised the order of needs. It also helped gain buy-in from key stakeholders within the college, as it enabled us to agree on approach, timelines and cost early on. This stage was vital if we were to be confident of success."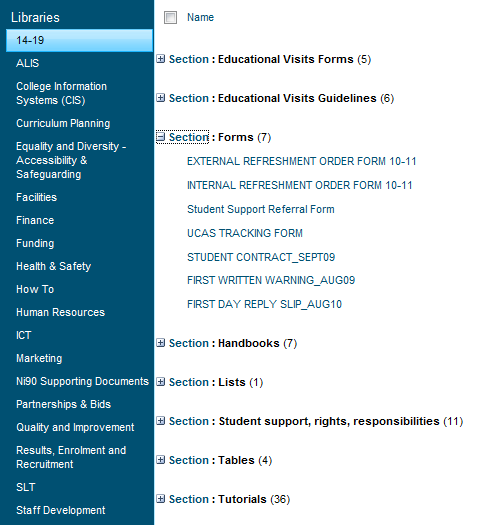 Delivery
The project was delivered over two phases:
1) Design and implement the new infrastructure; replace the existing intranet and with a SharePoint solution.
2) Create a new information architecture plan which details how information is to be stored, handled and accessed, and determines the correct policies for each piece of information stored. This includes proposed site structure, site navigation, navigation controls, permission / ownership, content type, managed metadata, publication, collaboration and governance. The aim is to ensure that information is kept safe and secure, is readily available to those who need it and is always simple to find.
Parabola worked closely with the college's IT team at all stages and provided full SharePoint training, enabling the in-house team to continue with ongoing maintenance and customisation after the project was completed. Key technology used included SharePoint 2010, VMWare ESX, Forefront Threat Management Gateway (TMG) and Office 2010.
Richard Cranton, Head of IT Services at Yeovil College commented; "We started with a broad set of business requirements relating to shared work environments. We'd heard that SharePoint was the tool to address this but we were also aware of poor implementations in other organisations. With Parabola's help and guidance we have deployed a SharePoint portal which has the potential to transform the way the college works."